Pen and wash drawings, still life
Pen and wash drawing copyright VivienBlackburn
Still life is a subject I don't really do any more in the traditional sense - I'll sometimes do studies of something that interests me or just for practice but don't do 'finished' works any more. Landscape always was my first interest.
This set up was in a class about 12 years ago and was full of lovely textures and shapes - the hairiness of the coil of rope, drapes of the material, the dark wood of the chair and the white flowers against a dark background, smooth jug, spiky teasel and delicate honesty were interesting to work with and work out a way of expressing each.
It was done with a Rotring art pen and sepia ink with plain water to create the washes - the ink is water soluble.
I came across this photo of it while I was looking for something else.
My Rotring pen tends to languish largely unused as well - I often find pen too scratchy for me and like the painterliness and soft edges of charcoal or pencil better for the way I work. Just occasionally I get it out again for an airing :)
I like the way that, when thinned with water for a wash (you can't see in the photo :( ), the ink separates into a
slightly
greeny pale brown and a
slightly
pinky pale brown, adding interest to the drawing.
Rotring make a range of pens, this is the one that I used. It has an F nib and takes cartridges of water soluble ink: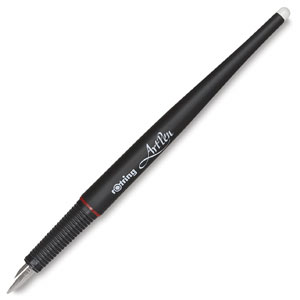 http://www.dickblick.com/zz208/19/
and a link to the Art Pens on Dick Blick.
What medium to
you
choose for still lifes?
.